CrossFit is a series of exercises which involves all parts of the body with an attempt to optimise physical competence in various domains ranging from stamina, strength, speed, agility to power, flexibility and endurance.The CrossFit training system is a combination of workout in weight lifting, sprinting and distance running and gymnastics. It is a core strength and conditioning program.

GROWING POPULARITY OF CROSSFIT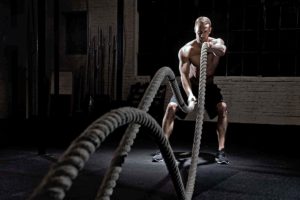 The CrossFit technique that was founded in 2000 has shown explosive growth while other traditional and commercial gyms have remained flat lined.  The Google Search volume visualized 166% year-over-year growth rate of the CrossFit Games.
CrossFit training has earned a name for itself as one of the toughest and challenging regimens currently present making it one of the most maligned sessions.
"CrossFit is for every one of all abilities," enthuses Parker. "It can accommodate those who want to get fitter, leaner and stronger and also those who want to go down the competitive route." Whatever your goal, CrossFit can help you, says Parker.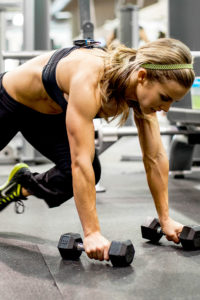 ADVANTAGES OF CROSSFIT
Effective and efficient way to improve muscle strength and cardio-vascular endurance

Nutrition: nutrition is considered to be an important element of CrossFit fitness strategy. The healthiest way to eat is to incorporate fruits and vegetables, healthy oils, lean protein and carbohydrates.

Affordability: CrossFit fitness regime does not require any high-technology equipment which makes it easier for people at all income levels to afford this fitness routine.

Competition: CrossFit training usually takes place in groups which leads to the rise of competition within each other. This is one of the best ways to perform beyond your capacity and stamina.
DISADVANTAGES OF CROSSFIT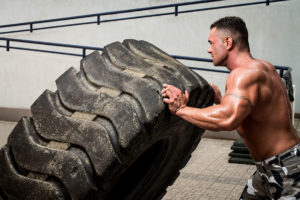 Injury: The injury rates in CrossFit training are substantially high as compared to other regimens.

Challenging Technique: many CrossFit moves and exercises are derived from gymnastics and Olympic weight lifting, it becomes important as well as difficult to master the correct mechanical form to avoid injuries.
DIFFERENCE BETWEEN COMMERCIAL GYMS AND THE CROSSFIT REGIMEN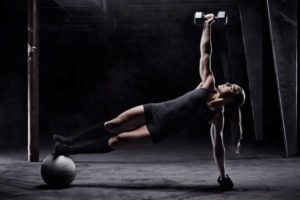 The main difference between commercial gyms and the CrossFit training method is that commercial gyms around the world focus on workout consisting of isolation movements and aerobic sessions whereas the CrossFit session is a combination of weight lifting, sprinting and distance running and gymnastics which results in a set of complex movement and high intensity cardiovascular sessions.
CrossFit training is not only a better combination of movements but also based on group workout wherein individuals as a team or family start and end the workout together in an attempt to encourage and motivate each other to perform better than their potential.
CELEBRITIES TRAINING IN CROSSFIT
Sarah Jane Dias
According to Sarah Jane Dias, "Crossfit is perfect; it gives you the adrenaline rush that you need to keep you going through the day like a city like Mumbai. No fitness is complete without being right about of food and nutrition. Fitness means the world to me. Having said that I would say fitness is also about the mind, I do a lot of yoga. But this is definitely going to be part of my routine. I have been converted into a Crossfit addict."
Kunal Kapoor


Even though Kunal Kapoor is not a regular enthusiast in CrossFit but he feels that you can adjust it to your fitness, you can push yourself. Fitness is not only physical, but also mental. With this your mind is constantly involved and its how much you can push yourself mentally as well as physically, so it's superb.
Sandeep Singh
Hockey is a sport that requires agility, alertness, stamina and speed. Sandeep Singh believes Crossfit is a great workout, "Being fit is the first step to playing a sport. I am truly honoured to be present for the launch of the Reebok and Crossfit collaboration. Reebok has a strong heritage in sports in India and Crossfit is a great way to push your limits and stay fit. I believe this collaboration is fantastic and will motivate people to take up fitness as a sport and become healthier and fitter."
CrossFit is usually referred to as "the sport of fitness" with the sole aim to promote all-round proficiency. Those days have passed by when fitness was considered by how much you can lift or how far can you run, crossfit enables an individual to do everything at the same time. Akshay Kumar is a perfect example of what it means to be fit.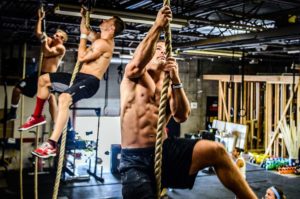 CrossFit regimen should be approached taking all precautions necessary to avoid injuries and master the technique of CrossFit. This method of training is to establish a hierarchy of effort and builds on the basis of diet, metabolic conditioning, gymnastics, weight lifting and throwing and sports. This is one of the best ways for a full-body workout.
GO CROSSFIT!
Comments
comments