With her peaches and cream complexion she is so down-to-earth and easy to talk to that nobody can guess she carries the weight of a famous surname. Born into a middle-class Punjabi family in Delhi, Divya Khosla Kumar came to Mumbai alone to chase her acting dreams. She began her acting career with the movie Ab Tumhare Hawale Watan Saathiyo, opposite Akshay Kumar and Bobby Deol when she was just 20. While this young starlet was shooting for this film she met Bhushan Kumar, the T-series head honcho and the son of Gulshan Kumar, who instantly fell head over heels for her.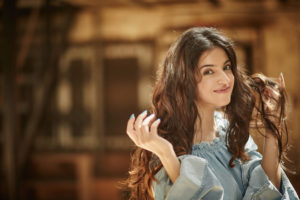 Bhushan went on to pursue her and when she was 21 the two decided to get married. Since then, she has gone on to direct various successful ad films, nearly 20 music videos and two movies. While many would say that she had it easy being such a big Bollywood producer's wife, she tells us she waited 8.5 years to direct her first movie. A staunch believer in women empowerment she says she never wants to just be a shadow of her husband. With another movie in the pipeline we had a chat with Divya about her career, her fitness secrets and her family.
You came to Mumbai to be an actress, yet today you are a successful director. How did your career take this direction?
I initially started modeling in Delhi while I was studying and soon after I decided to move to Mumbai to pursue acting. Even while all of this was happening, I was always interested in learning what happens behind the scenes. I've always been a very creative person and hence decided to spend time learning cinematography and editing. I then decided to direct a small film on anti-piracy which was very well received. Post that I directed my first music video which went on to be a huge hit. That gave me a lot of confidence and then slowly I kept directing a lot of music videos which helped me polish my craft. That is what led to me directing my first film Yariyaan which was released in 2014.
In one of your interviews you said that, people should not look at your identity solely as Bhushan Kumar's wife and see your work on its own merit. How much does this push you to outperform yourself every time?
Ever since I was a small child, my parents have brought me up with the sensibilities that every girl should stand on her own feet and create herown identity. Of course I am proud of being Bhushan's wife but at the same time my individuality and my identity are equally important to me.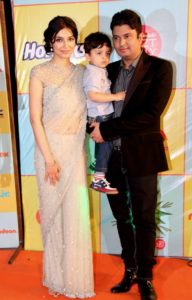 I would never like to just be a shadow of him. It means a lot to me that I  make my own mark in the world. I think that is very important and it is also equally important to be financially independent for every woman because that's where you get your respect from. It does not matter whether you are married to a middle-class man or a millionaire, it is very important for each girl to have her own identity. That's the upbringing I've had and that's what I think.
As the wife of the owner of T-series, do you have to be more careful about your undertakings as you have a huge brand reputation to protect?
As far as the T-series brand reputation goes, I can't think before taking each and every step. I strongly believe as his wife, there should be no restrictions, no boundaries in a relationship. A married relationship needs to be healthy and open where both the parties should be free to do as they want. Having said that, for my own self I have some boundaries in place and I think Bhushan must have judged me as a person before marrying me. He must have noticed how open or closed I am to various things and that must have influenced his decision to be with me.
There is a huge debate in society today about working moms and even in Bollywood there aren't many successful female directors. What are your thoughts on that?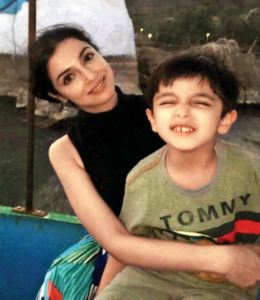 Yes I am a working mother but at the same time for me I think my family is my priority and no matter what, my child would always come before my work. I try my best to balance both. Of course I understand that sometimes in a 9 to 6 job you have to make certain sacrifices and I really bow down to those mothers who do so because that's not easy. But I am in a position where I can balance both, since I am director so I can freelance, I can take my child along with me on shoots. At the same time, it's important not to forget the mothers who stay at home. They also do a round-the-clock job at home for their families and thus it is very difficult to compare. But of course for my work, I cannot ignore my child. That's just something which I cannot do.  
You came back to films as a director after 8.5 years of your first acting assignment. Was this intentional or something that you hadn't planned?
I was constantly working for those 8-9 years after marriage. I have gone under the grind and I have worked extremely hard. After I learned cinematography and editing, I was constantly directing music videos.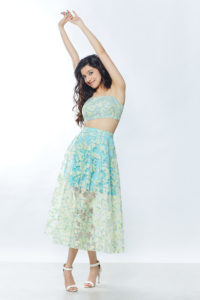 But I've realized that when you are directing music videos you don't get that recognition as a technical person. It's only when you direct a film that the director gets recognition. I went on to direct almost 20 music videos and some advertisement films. I was constantly working and training myself and I think it was those years that helped me in becoming completely technical and at par because making a film with new comers is not at all easy. I trained them for a year in acting because they were completely raw. I held various acting workshops for them to hone their skills. It was important to get them to a level where they could face the camera and give their best and pull the audience to the theaters.
You have walked the runway for a few charity organizations. What social cause do you feel the strongest about?
I personally feel that girl child education is very important. In fact I feel it is incredibly important to educate each and every child of the country because they are the ones who are going to grow up to be the youth and are going to take the nation forward. It is very important that they are educated and they know their rights as a citizen and also their human rights. I think education is the most important weapon that we can give a child and I really believe in that.
You can give any big B-Town actress a run for her money with those looks. Can you share some of your beauty secrets with us along with your workout routine?
Thank you. To be honest, I don't think there are any beauty secrets as such, it's just that I meditate and that really helps me. Other than that I hardly ever visit the parlor. I've never bleached my face. I never get my eyebrows done. I don't allow another hand to touch my face for facials or peels. I believe in natural products like using stuff from the kitchen or natural packs that you can buy from the supermarket. Both the fitness of the body as well as of the mind are extremely important to me. It should be holistic. I don't ever miss out on my meals or ever diet. This is because as a working lady and as a mom it is very difficult if you diet since your energy levels drop and then you can't look after your own self or your family. Thus I think it's very important to be able to eat everything and eat healthy and I do just that. 
You have tweeted a few times about the Brahma Kumaris. How did you get associated with the organization and how has it helped you?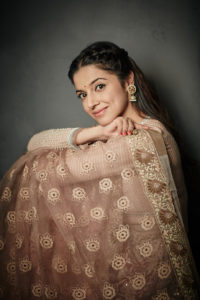 My parents have been associated with the Brahma Kumaris. It is they who took me there and I think it has really helped me since in today's time things are negative all around us. "Depression" has become a style word these days with even people who are sad, saying that they are depressed. I think it's very important to keep yourself in a very happy state of mind everyday. We are just like batteries and we need to charge ourselves every single day to keep our energy level high. We can only charge ourselves with the help of the supreme soul. He is the unlimited source of power and an ocean of love. If we try and get happiness from a materialistic world, we will face a lot of a disappointment and thus I think God is the only source of happiness. I am associated with the organization and I have been following them quite religiously for quite some time now.  
• One person who has inspired you the most?
That would definitely be my mother.
• Your favorite holiday destination?
I think it would be Bangkok because it's so easily approachable from Bombay. It's a quick flight from Bombay and you can easily go to a beach destination from there.
• Your favorite fashion brand?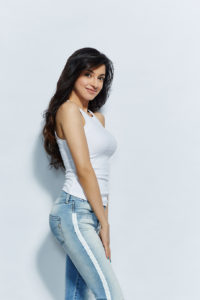 I absolutely love Sabyasachi because I am true Indian at heart and his Indian clothes are out of this world.
• What's the most precious thing in your wardrobe?
I am not that much into clothes and I am not at all a shopaholic. But the most precious thing maybe would be a pair of Sophia Webster shoes.
• Your favorite dish?
I like eating Indian food but my favourite cuisine is Chinese. I can eat Chinese food every day. My favourite dish would be Chinese greens in any sauce with fried rice.
• What's the one thing you can't live without?
Ummm, that would definitely be water. (Laughs)
• What are the things you never leave your home without?
It has to be my phone and my lip balm.
• Your favorite pastime with your son, Ruhaan?
We do lots of activities together. We keep making new games and playing and of course I love to play with him. Even before this interview I was playing with him. Every single minute that I spend with him is precious because I am so thankful that I have him.
• What is your life motto?
That would be to reach the zenith of my creative potential.
Comments
comments