I remember being a little girl, wrapped up in my red frock, gazing at the sky, watching airplanes pass, and exclaiming to my mother, "Mother, look! I will sit in it one day and fly off, far, far away, where the Gods reside"
Little did I know, my dream was as typical as it can get for any little girl- taking a trip by myself, and where, you ask? Ever since I've seen myself growing up, believing in those dreams of mine, there has only been one word that everything that I say or do revolves around and that magical word is:-
E-U-R-O-T-R-I-P
It has a nice ring to it, doesn't it?
Well, I am about to spill the secret that I have been building for over 23 years of my existence now. I have never liked the conventional ways, hence, when it comes to the dream vacation of my life, it wouldn't even be remotely close to being conventional. Of course you want to take a boat ride under the moonlight in the Po river, and of course you want to hold the Eiffel tower by its tip (Could it BE any more Indian!)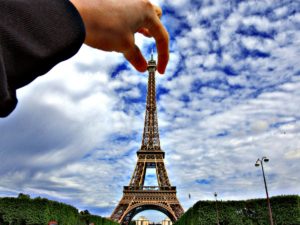 But when you go, do not forget to visit these lesser known but B-E-A-utiful places hidden somewhere in the continent where the Gods themselves reside..
THE CINQUE TERRE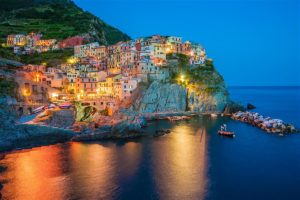 Situated in Italy, the place takes a little detour from the conventional tourist spot and gives you a ride closer to nature. Due to geomorphological reasons, the place hasn't been turned into a concrete jungle (and we thank God for that!) and the vegetation thus provides a beautiful landscape. Cited as a UNESCO World Heritage Site since 1997, this place has railway lines that cut through the beautiful landscapes, and make for the most used mode of transport since cars were banned here over a decade ago. Its historical architecture probably is one of the reasons why this place utterly stands out. The landscapes are very intricately terraced and carefully chiseled and make for a brilliant view while you are on one of those train rides through the five villages, namely- Riomaggiore (the largest one),  Manarola, Corniglia, Vernazza and Monterosso, being the last one-  that have been into existence since the medieval period.  The five fishing communities aren't as isolated as they once used to be, but still carry a tag of uniqueness with each of them. Also, the cliffs that this place harbors are a major attraction if you're looking for a sweet escape into the lap of nature, quite literally. The gem in the crown of this place is that it is a perfect blend of preserved architecture and unscathed natural beauty. Viticulture being a popular activity here (hello, great wine!), this place has also been blessed with the view of a sea that is crystal clear and is definitely worth a shot! Spare the place a day long trip and do it justice by spending at least four days on it, be it on half day hikes or a relaxing day by the cliff, with a glass of fine wine in your hand.
SINTRA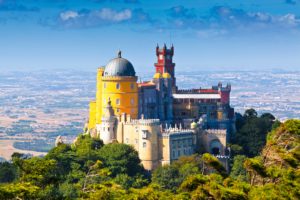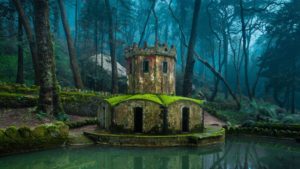 For all those who love to fall in love, Sintara, situated in Portugal, is the place for you. Apart from its historic significance, this place oozes out romance. I can bet all that I have that all those who have ever written poems for their loved ones, or serenaded their lovers, have certainly had something to do with this place. Set amidst the pine covered hills of Serre de Sintra, the climate here is slightly on the cooler side. The ancient Portuguese culture is evident here, showcased in the exquisite architectures that this place nurtures, with Pena Palace being one of the most sought after places. The castle that lies in between the mountains and the seas is proof enough that paradise isn't far when you're staring into the abyss of this beauty that has been standing tall and beautiful for ages now. Sintra is situated amidst the scenic beauty of Parque Natural de Sintra-Cascais, the national park which consists of long green lushes which go on for miles until they embrace the coastline which could just be one of the most picturesque unions the heavens could have ever witnessed. The heart of the city is made up of streets and houses which have been designed in the conventional gothic style. To properly explore this place, one would ideally need about three days, given one wants to genuinely 'explore' it, but if you are running a little short on time, a day and a half could very well suffice. But while you're at it, do not miss out on the Moors Castle which makes for yet another architectural masterpiece which holds its own historical significance (of course).
PORTO SANTO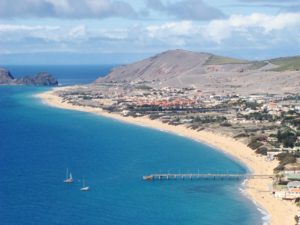 Porto Santo is the smaller of the inhabited islands of the Madeira Archipelago. Apart from the rich natural jewels and the historical significance being some of the reasons why it is advisable to visit this place, the warm climate that it harbors along with the warm people that inhabit it are all the more reasons why it is definitely advisable to visit it. The locals are said to be very welcoming and quite helpful. It lies in the Atlantic Ocean, at the South-western tip of Europe, about 500 km from the coast of Africa and about a thousand kilometers from Continental Europe.This place consists of nothing but yards and yards of white soft sand. A golden beach as they call it, it is one of the lesser known places situated in Madeira, Portugal.  The golden sand is idea for sunbathing and the clear water perfect for a good day swim. In short, the place is ideal for a day out to some of the most beautiful beaches that the planet has scraped on its face. The primitive beauty of this place is worth a walk down the little pathways  or isle trails, or maybe even think of taking a cycle on some of those. You might not find a lot of hotels and inns around here but that is just proof enough that this is one of those unexploited territories that Europe has to offer, and would certainly be worth the effort. Not having been commercialized enough is what makes this place stand apart. Besides, witnessing the holy union of pure golden sands with the waves of a sea as clear as its sky is something you certainly would not want to miss out on!
BLED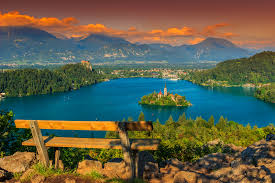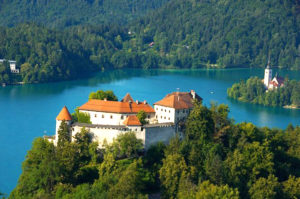 Situated in Slovenia, this place has but bled beauty throughout its existence. With immense natural beauty, Bled, together with its surroundings, ranks among the most beautiful alpine resorts. One major point that you must visit is the Bled Lake, without a doubt. The long trail along this lake is just perfect for long walks with your better halves or beautiful strangers (just don't be a stalker), or even bike rides to satisfy that partial recluse residing inside you. Rowing is also a very popular sport here in this area, if you fall into the category of the adventurous kind.  Imagine residing in the heart of an isle surrounded by miles and miles of clear water by all sides, followed by green grazes and then snow-capped mountains. It being a thermal lake, the climate here in this place is warm and welcoming (quite literally!). Castle Beach is a place that you should pay a visit. During summers, this place is perfect for soaking yourself in the sun for a good bath (and getting a good tan), but during the winters, at categorically low temperatures, it would be fun to see how those who, in fact, are the adventurous kind, manage to ice skate over the frozen water. The Bled Castle is also a place of interest for those with specific interest in the architectural beauty of a place. The distinctive feature of the castle is its double structure – the fortified centre part was intended for the residence of feudal lords, whilst the outer part with walls and buildings was intended for the residence of servants. The scenic beauty I the middle of which one would certainly want to engulf oneself, is beyond amazing, certainly a place for artists to paint their existences in, even if for a while. Besides, sleeping in the heart of the (ocean?) is certainly worth the ride to it, isn't it?
LOFOTEN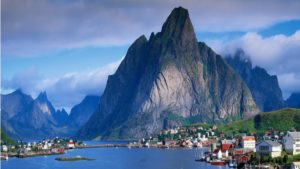 Norway's untamed islands as they are fondly called, the Lofoten Islands is a picturesque site for those who dare to admire the dangerous beauty of nature. The Lofoten Islands are draped across the turbulent waters of the Norwegian Sea, far above the Arctic Circle. The place is a beautiful bouquet of gigantic mountains, wild seas and lush green vegetation put together in the most intricate manner. Due to the presence of the warm Gulf Stream, the place usually harbors warm climate as compared to other places in the world at almost the same altitude. Try to plan your trip here between May and mid July since you will get to witness the midnight sun, and if you wish to see the northern lights, you could plan your trip accordingly between September and April. But let's be honest, the major reason people live here is because of its undeclared formal 'sport', i.e., fishing. This place is known for plenty of small fishing villages. So, if you're the conventional fishing kinda guy/gal (no we're not being sexist), you could rent a traditional fisherman's cabin which would be easily available and spend as much time as you want catching and frying your kind of fish. Worst case scenario, you get to experience the beauty of the place and the view outside your cabin (Just keep lots of packets of cheetos, just in case you can't catch any fish, despite there being plenty of them in the sea)! And if you look for more, you could always go hiking, skiing, ocean rafting or scuba diving, oorrr you could just sit back and relax. This place makes for the perfect holiday spot for that family that has the mixed bunch of vacationers.
So, this was our version of the rather unexploited must visits in Europe.
Bon voyage!
Comments
comments