Ditch the diet, move on to healthy eating.
We all try to find dishes which help our cravings but also substitute fewer calories because burning it out afterwards take too much effort. We've made a list of places which serves some of your favourite dishes with a blend of nutrients and good taste.
NUTRITIOUS NATION – GREATER KAILASH II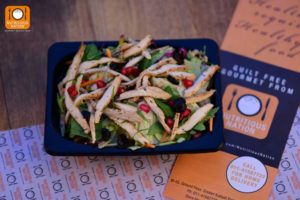 Nutritious Nation, an unpretentious dining setting has a scheme to deliver food that is balanced and stuffed with nutrients. They aim to use healthy substitutes instead of cheese, white bread, mayo or other components of fast food junctions. Nutritious nation is nothing else but a healthy foodie's paradise.
"It's not a diet. It's not a phase. It's a lifestyle change" – Nutritious Nation
Where: M 45 Ground Floor, M Block Market, Greater Kailash II, New Delhi
Contact: 011 41587722
Timings: 8.30am to 11pm
Price for two: INR 1000/-
GOOD FOOD CAFÉ – PITAMPURA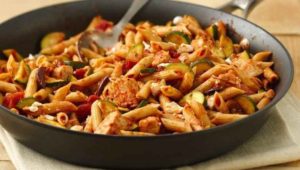 Good Food Café is a multi-cuisine restaurant that makes available Italian, Continental as well as the Café food. The pinnacle of this café is the outdoor seating arrangement amidst clean neat ambience. Some of their specialties and all time favorite items on the menu are submarine sandwich, baby corn and mushroom wrap and the refreshing and flavorsome salads.
Where: A-10, NN Towers, Road No. 44, Plot No. 23A, Pitampura, New Delhi
Contact: 099904 99909
Timings: 12 to 11pm
Price for two: INR 600/-
ORGANIC EXPRESS – GURGAON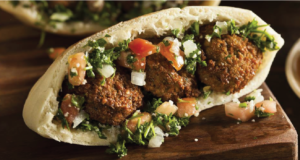 Organic Express as the name suggests prepares food from organic ingredients and delineated in consultation with nutritionists for foodie's who want nourishing wholesome food. They not only produce organic food but also sell organic vegetables, condiments and spices.
"Food that loves you back"
Where: 113, Ground Floor, Central Arcade, DLF Phase 2, Gurgaon
Contact: 0124 4079352
Timings: 8:30am to 11pm
Price for two: INR 700/-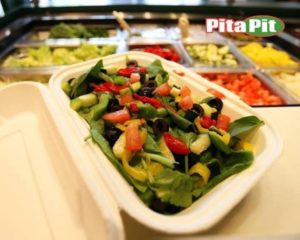 Pita bread popular in Mediterranean cuisine is a leavened wheat bread. The apotheosis of Pita Pit is that it uses pita pockets instead of bread. They serve a wide range of health Mediterranean-inventive pita wraps and salads for both vegetarians as well as non-vegetarians. Pita Pit outlets are renowned for their fresh made-to-order pita sandwiches and salads.
Where: K3-B, Ground Floor, Cyber Hub, DLF Cyber City, Gurgaon
Contact: +91 8287212345
Timings: 11am to 12 Midnight
Price for two: INR 600/-
HEALTHY ROUTES – CONNAUGHT PLACE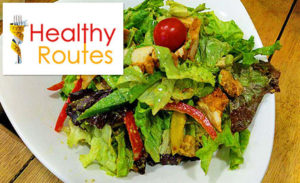 Healthy Routes aims at satisfying our taste buds, not neglecting our fitness regime. The menu discloses the number of calories each dish contains with the description of various dishes. No one can imagine dessert and health together but one can expect desserts made in the healthiest way possible from this international restaurant. It has options  ranging from Dark Chocolate Mousse to Low Fat Phirnee and Banoffee Pie. Healthy Routes is one stop for all guilt-free indulgences.
Where: C-24, Block C, Connaught Place, New Delhi, Delhi 110001
Contact: NA
Timings: 10am to 10pm
Price for two: INR 800/-
SALAD DAYS – MALVIYA NAGAR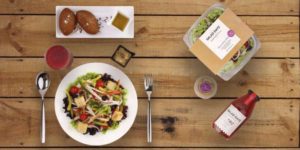 Salad Days concentrate at providing green leafy and fruit salads, fresh juices and healthy smoothies. One can expect massive portions of salad full of pasta, greens, basa, prawns, eggs, beans, chicken and a whole range of organic veggies. This outlet is perfect for soul-cleansing.
Where: Shop No 4 & 5, Ground Floor, Gallon Complex, Malviya Nagar
Contact: +91 9643800901
Timings: 9am to 11pm
Price for two: INR 800/-
GETAFIX – GREATER KAILASH I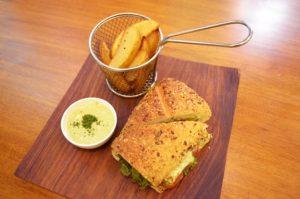 Getafix provides you with a lot of choices keeping in mind the calorie intake and hygiene. It has the perfect mix of healthy delights and cosy ambience which makes one come here again and again. It has options ranging from smoothies and juices to pastas and burgers, starters to mains and lastly, the desserts.
Where : M 15 First Floor Part 1 Road, Greater Kailash, New Delhi, Delhi 110048
Contact : 011 33107600
Timings :  8 AM to 10 PM
Price : ₹1,200 for two people (approx.)
Comments
comments